Breg
Regular price
Sale price
$215.00
Unit price
per
Sale
Sold out
Breg Recover Knee Brace, Short Airmesh, Open Back, Wraparond is the best recover knee brace combines the low profile nature of a hinged ligament knee brace with the functionality of a post-operative brace. It provides the optimal fit for maximal comfort and support throughout the recovery process. Its adjustable straps and airmesh material will help reduce the risk for further injury.
The wraparound recovery knee brace is design to allow patients to apply the brace with ease and Airmesh fabric material for best ventilation while wearing it. Its custom fit and flexibility make the Breg Recover Knee Brace perfect for everyday activities, like running, walking, and standing.
The Recover Knee brace utilizes the patented T Scope hinge, which offers range of motion control of the knee with simple, quick adjustme It allows for a comfortable and personalized fit to ensure you stay comfortable throughout your daily pursuits.
The universal design accommodates both right and left leg procedures. A flexible solution for knee-related risks and issues, reducing the need for multiple braces for different leg sizes.
The Recover Knee brace combines ease of use, comfort, and functionality all in one brace.

Examples of Use
Most ACL, PCL, MCL, LCL injuries or instabilities
Tibial plateau fracture
Meniscal injuries and repairs
Sprains/strains of the knee
Osteochondral repairs
Patella tendon repairs
Condylar fractures
HTOs (High Tibial Osteotomies)
Product Features
T Scope Premier hinge offers extension adjustability between -10° and 70°, while flexion may be adjusted between -10° and 120°
Easy to use extension drop lock allows the brace to be locked out in 5 positions (in -10°, 0°, 10°, 20°, and 30°) of knee extension with the push of a button
Wraparound design for easy application
Universal fit for a right or left leg to reduce inventory
Open back design to ensure no bunching or pinching of the popliteal crease of the knee
Airmesh Material 
Product Sizing Chart: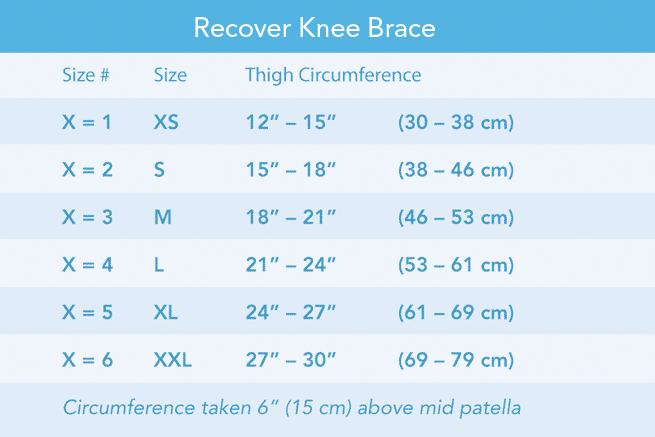 Share
View full details